Louise Noordam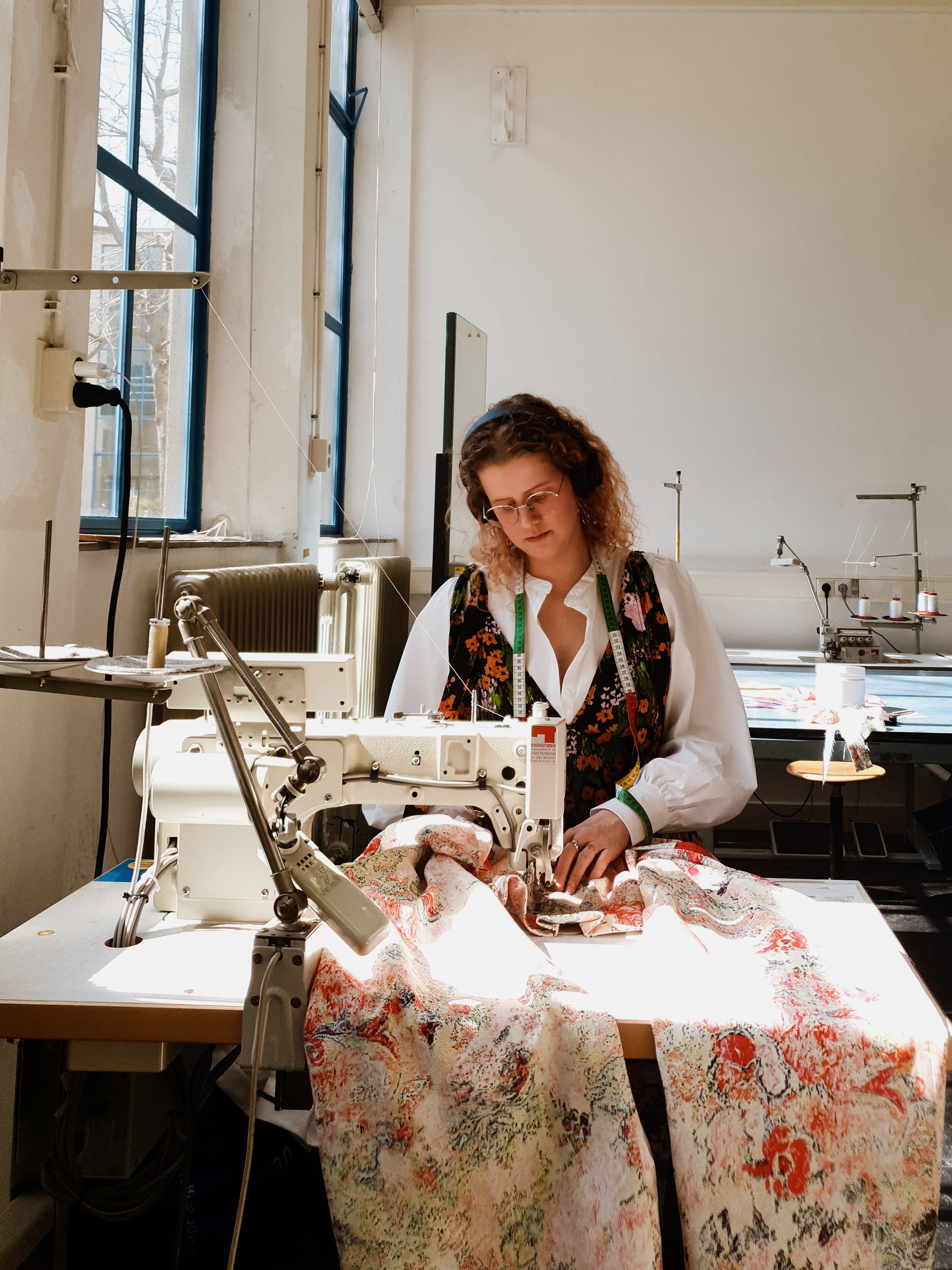 Louise Noordam (2000) was born and raised in a small village in the Netherlands and currently still works from her home base. Louise graduated from The Royal Academy of Art, the Hague with a bachelor's in Textile & Fashion Design, with an extra focus on print design. She found her speciality in creating authentic prints with expressive colour combinations.
Prints: from Memories to Artworks
Louise lives and breathes print. She takes inspiration from her life and turns memories into artworks. Behind each print, there is a different method of creating. Prints can be hand painted, digitally altered, taken from photographs or (childhood) drawings or any other interesting method. Each print tells a story.
There are playful and unexpected twists in her prints. For example, her pinstripe print has her own signature on top and her flower prints are all different from one another. 'I do love a flower print, also in my own wardrobe. In my opinion, flowers can be anything, feminine, masculine, small, big, graphic, very detailed, abstract or realistic. I even use flowers as paintbrushes or as the subject of a photoshoot. They are my muse.' Louise explains. The prints she designs are transferred onto fabric and used to create garments or they are used as art pieces on their own.

Healing through Art
Louise had suffered from autoimmune eczema for 11 years and her graduation collection was a therapeutical tool for her to heal and get to know her real true self. She used the pain as a learning tool and focussed on the positives that she turned into a life-changing collection. It is important for Louise that her work is uplifting, and positive and can give someone a little hope. "I found healing through design," Louise says. "Art has been a tool for me to grow. For years, I never knew what had caused my eczema. Apparently, it was stress. I used my final academic year as a research moment to go deep and the result has been amazing. I now know that as long as I am my unapologetic authentic self and not stressed, I am eczema free."

Childhood Memories: Binnen Dansen
"Binnen Dansen (dancing indoors) comes from a happy childhood memory of dancing in the living room with my sisters. My childhood ended when a battle with autoimmune eczema started over ten years ago." Louise explains. When creating this collection, she looked back at the happy moments of when she was living in a carefree bubble, without stress and pressure from society. Hoping to gain this vulnerability, playfulness and freedom again. Through the clothes and prints, I am letting my younger self come back to life with this new representation of my current self. Re-drawing my childhood flowers, re-colouring my childhood drawings and again playing dress up with my parents' clothes."