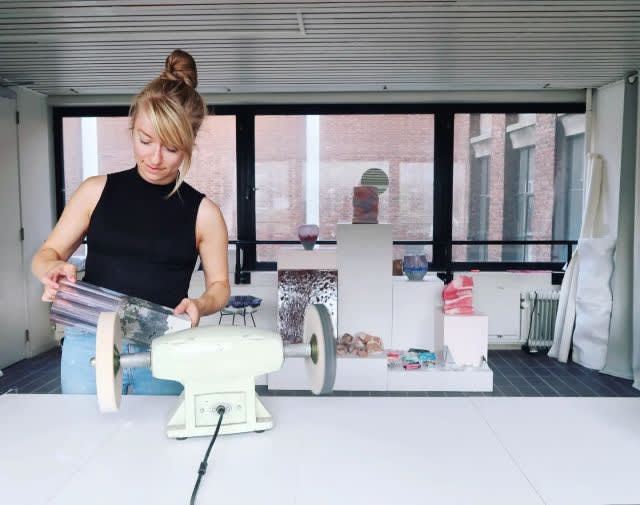 About the designer
Jule Cats (1993) is fascinated by materials and the stories that they carry. Layering plays an important role in her work; with her objects, she shows the beauty and emotional value of materials that usually go unnoticed. Within this process, she is always looking for
an element of wonder. Her designs trigger curiosity, which makes room to share the underlying story of the material.

Re-valued waste materials
Jule first gained attention with her designs made from recycled rubble from demolished buildings. Having lived in houses that were on the list to be destroyed, she experienced the grief that comes with being forced to leave home. By combining concrete remains with polyester, she created multiple interior objects, showing the beauty of a waste product. Jule Cats' handmade, limited series are locally and internationally renowned,
from exhibitions in New York to Shenzhen.

Series 'FLOW'
For her "Flow" designs, Jule Cats pursued the perfect reflection; the ideal image of the past and future. Inspired by second-hand mirrors, she asked herself to what extent memories and time can be controlled. This question led to the creation of 'FLOW': a series of vibrant mirrors made from recycled mirrors, natural minerals, and acrylic resin. Jule thinks of mirrors as time capsules, since so much time and stories are captured in
the material. By using recycled mirrors, 'FLOW' tells the viewer that there have been many reflections before theirs, and there are many more to come. The collection visualizes letting go of time and moving along with its whimsical shapes.