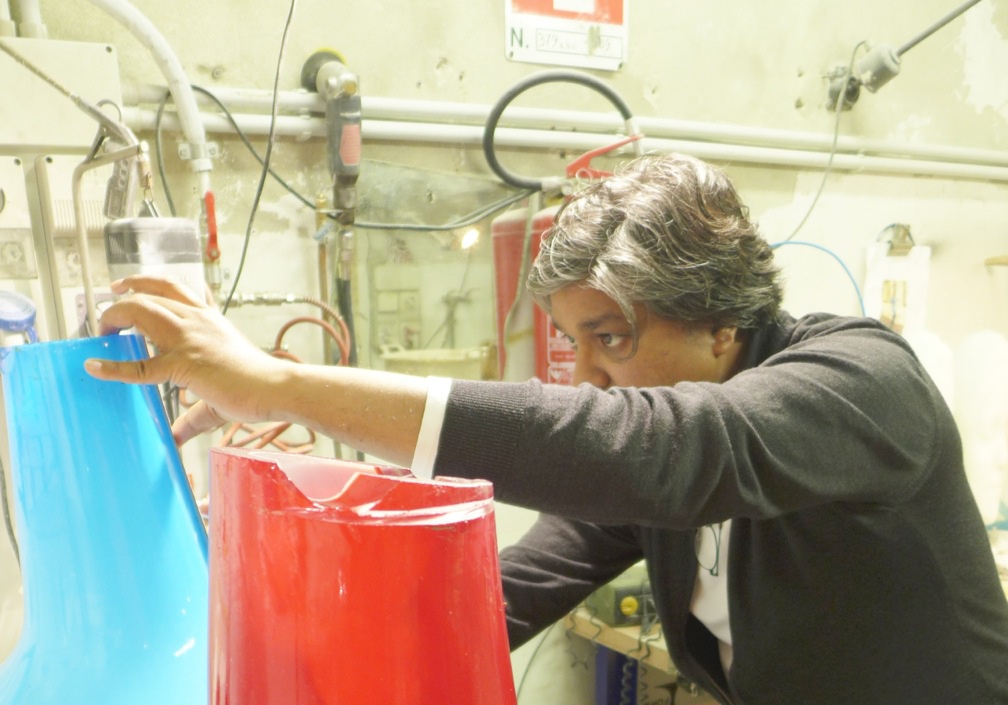 Satyendra Pakhalé: Cultural Nomad
Satyendra Pakhalé, born in 1967 in India, is a multifaceted creator who has made a significant impact in the world of art, design, and architecture. With training in both India and Switzerland, Satyendra has been an active figure internationally since establishing his practice in Amsterdam, the Netherlands, in 1998.
Motivated by Ecological, Technological, Societal, and Cultural Parameters
Satyendra's work transcends traditional boundaries, embracing a unity that goes beyond binary distinctions such as high-tech versus low-tech, industrial production versus traditional crafts, and functionality versus poetic significance. Motivated by ecological, technological, societal, and above all cultural parameters, he brings a fresh perspective to his designs, incorporating innovative cultural connections that are particularly relevant in today's society..
Pushed the Limits of Technology and Materials
Throughout his career, Satyendra has designed diverse typologies and pushed the limits of technology and materials. His extraordinary talent has attracted renowned clients such as Cappellini, Hästens, Poltrona Frau, Novartis, and TOD's. His designs embody a synthesis of new applications of materials and technologies, showcasing great ingenuity and resulting in one-of-a-kind pieces, serial objects, and limited editions.
International Speaker
Beyond his contributions to the design world, Satyendra has also been an active speaker on international platforms, sharing his insights at events such as CeBIT Germany, Casa Brasil, and Future Design Days Sweden. In recognition of his expertise, he was invited to lead the Master of Design for Humanity and Sustainable Living program at Design Academy Eindhoven from 2006 to 2010.
Satyendra's works have been acquired by prestigious museums worldwide, including the Victoria and Albert Museum in London, the Stedelijk Museum in Amsterdam, the Montreal Museum of Fine Arts, and the Centre Pompidou in Paris. These permanent collections serve as a testament to the significance and impact of his creations.
Cultural Nomad
His philosophy as a "Cultural Nomad" encapsulates his approach to his work. Satyendra seeks to find a universal poetry that connects people from all corners of the globe, a human warmth that transcends specific traditions or fixed notions. He cherishes and cultivates freedom, both in his way of living and creating. His dexterity is showcased through diverse natural materials, techniques, and craftsmanship, allowing him to create unique and meaningful objects.
A comprehensive monograph titled "Satyendra Pakhalé: Culture of Creation" has been published by nai010 Publishers in Rotterdam, Netherlands, celebrating his impressive body of work. This publication showcases his dazzling talents and multifaceted approach.
In summary, Satyendra Pakhalé's work as an artist, designer, and architect has earned him a deserving place among the most influential and respected figures in his field. His designs not only inspire but also embody cultural dialogue and innovation, leaving a lasting impact on the world of art and design.
COLLECTIONS
V&A / Victoria and Albert Museum, London, United Kingdom
Centre Pompidou Paris / Centre national d'art et de culture Georges Pompidou Paris, France
Stedelijk Museum Amsterdam, The Netherlands
M+ / Museum for Visual Culture Hong Kong
MMFA / Montreal Museum of Fine Arts, Musée des beaux-arts de Montréal, Canada
MAKK / Museum fur Angewandte Kunst Koln, Germany
Foundation of the Sparda-Bank, Münster, Germany
Die Neue Sammlung, The International Design Museum, Munich, Germany
F.N.A.C. / France Fonds National d'Art Contemporain, Paris, France
Stedelijk Museum 's-Hertogenbosch, The Netherlands
Sotheby's London, AJC Designs, London, United Kingdom
Musée de Rochechouart / Musée départemental d'art contemporain de Rochechouart, France
ammann // gallery / Collection, Cologne, Germany
Private Collections / Switzerland, South Africa, Germany, UK and USA