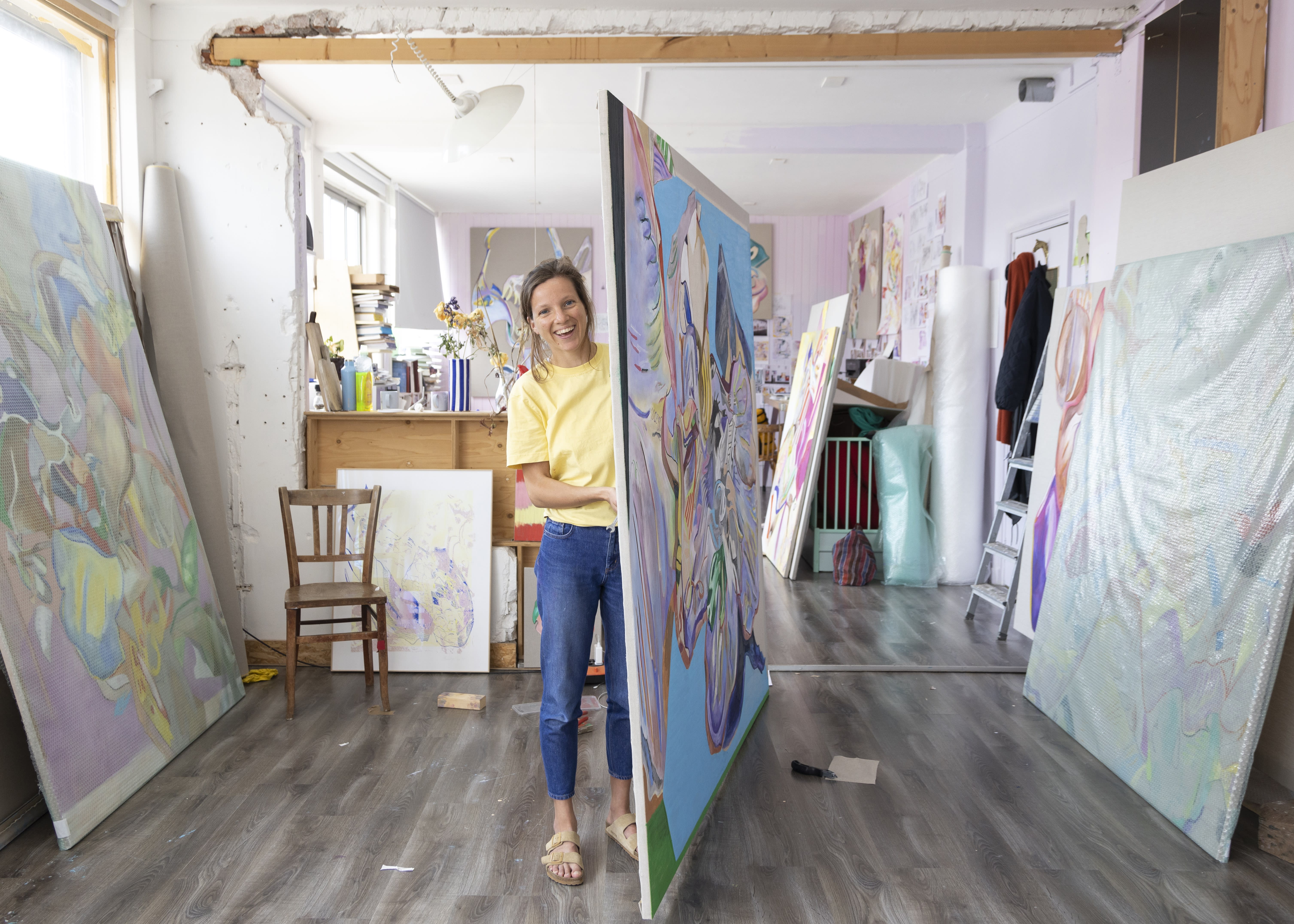 Florentijn de Boer
Florentijn de Boer (1993), born in Voorburg and currently living and working in The Netherlands, is a newly graduate from the Fine Arts department at the Royal Academy in The Hague.
Eco-friendly art on canvas
She predominantly works with oil-stick on canvas. The canvases she uses are made of unprepared linen, a material she has chosen because of it's eco-friendliness. With her colourful, abstract paintings she ables the viewer to observe and experience in an unconventional manner.
Elements of magical realism
After a series of abstract works combining fragmented elements of magical realism, manga comic books, lush landscapes with unknown flora and otherworldly civilizations, Florentijn de Boer's new layered "flower still lifes" are more figurative and domestic in nature. The world has literally gotten smaller. Just like in flower still lifes by old masters, Florentine's new works are about transience, but also about purity. On the canvas, the artist freezes time; the flowers, shapes and patterns stop for a moment in their development towards irrevocable transience. At the same time, she brings the suggestion of movable matter into the works, as if a breeze of wind lights up a piece of cloth or makes the flower leaves vibrate. the sun. Vague outlines recall an original object that has been there in the sun for a long time but has been removed and left an empty space. In this way the artist also makes visible the effect of the sun and the passage of time.
In contrast to the old masters, the flowers in the compositions of the contemporary artist are isolated, drawn from their original context - nature - and the underlying landscape consists of repeating graphic patterns for which the reliefs, mosaic floors and tiles in Italy are sources of inspiration. shapes and which she bends to her will, as in the work Touch Nothing Never Nowhere. By digitally cutting, pasting, resizing, mixing elements and allowing shapes to 'overlap', parts are no longer visible or appear. In this way she plays with spatial and depth effects.
Florentine often draws her inspiration from the natural world. She mainly works with oil pastels on unprocessed linen, leaving regularly parts of the canvas open. It's like the shapes fly in and out of the painting. On average, a painting goes through about ten phases, in which recognizable forms such as flowers and plants become increasingly abstract. "I try to keep drawing until all reality disappears from the image". she says. What remains are colorful dynamic compositions, frozen moments in a larger story.
Collections:
NN
Deloitte