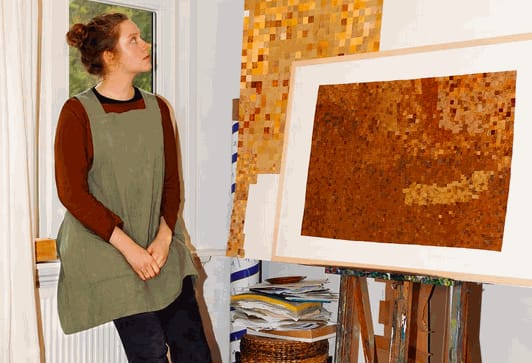 Both as a visual artist and a forest ecologist, Milah van Zuilen aims to bend the disciplines of art and ecology closer together. She uses fieldwork as a method to explore the human urge to understand and divide landscapes. Also central to her work is the square, a shape that characterizes this human perspective on the land.

"I feel very deeply that nature is everything to me. When I see the destruction of nature, it touches me very much."

During fieldwork, she gathers leaves, which she transforms into an entanglement of squares and grids. The pieces from this series bring together a range of species from various countries and regions, blurring borders and biomes. The pieces invite the viewer to experience nature's connectedness.

"My fieldwork feels like a ritual. The process gets me into a meditative state of mind."
Collection:
Museum Voorlinden
Museum het LAM