Art, Fashion and Design
Past exhibition
With the exhibition Art, Fashion and Design, Rademakers Gallery focuses on crossovers between the various disciplines. Yamuna Forzani is also someone who effortlessly combines fashion, photography, dance performance, installation and art. During her fashion education at the KABK in The Hague, she already started developing colorful fabrics with challenging prints and graffiti-inspired tags, which she made in the Textielmuseum |TextielLab in Tilburg.
LGBTQ+ Utopia
The wall works entitled Eye Candy are literally soft and sweet candy for the eye with their mix of bright colors, pastels and shocking pink neon. She also uses abstracted anonymized portraits of human bodies from the ballroom scene - the underground LGBTQ+ subculture that originated in New York City. Using recycled polyester and organic cotton with a double jersey knit technique, Yamuna tells optimistic stories in bright colors. It is her personal version of Utopia in which everyone from the LGBTQ+ community, of which she herself is a part, is accepted and represented. She illustrates this in her work Kiss, which is loosely inspired by Gustav Klimt's The Kiss. Forzani shows a knitted photo version of two anonymous queer men indulging in love. A work that everyone can identify with. 
She also produced a series of fifty editions: the wall works A slice of my world were also made in the Textielmuseum with the same knitted technique and materials, this time embroidered with pearls and beads. 
Imperfect & aesthetic
Designer Ward van Gemert of studio Nightshop, not only sees the value of everyday things that others pass by or consider trivial, but is also inspired by them. In doing so, he researches and mixes high and low culture, bad and good taste.
He gives new life to discarded functional products by giving them an appearance that is not perfect, but aesthetic and unique. Through the intervention of the graphically oriented designer, a discarded functional office cupboard is given a hand-applied drawing or line pattern. "A time-consuming activity that arises out of boredom," he says about it, but it does make the cabinet extremely attractive and unique. The black Rubato Cabinet and the blue Rubato Hanging Cabinet also get something personal: they are slightly out of balance and also the rhythm of the applied lines is a bit skewed.
New visual language
Like Yamuna Forzani, Antoine Peters is not a fashion designer in the traditional way; he mixes art and architecture with fashion and surrealism with popular culture. Wearable, unwearable, handmade or machined, everything goes hand in hand in his playful, quirky, narrative and layered world.
reconfigured He distorts clothes: stretched, repeated, cropped and reconfigured, he surprises the viewer with his new visual language. Because Peters wants us to look at clothing in a different way, the world around us and ourselves, by playing with perception.
The objects Looong sleeve 02 and 03 and Pair of Jeans for example, possess the power of alienation and wonder. They ask for a slowed-down look and a change of perspective. "As a response to the current culture of opinion, I make people look more closely, let them listen and be open to new thoughts," hopes Peters.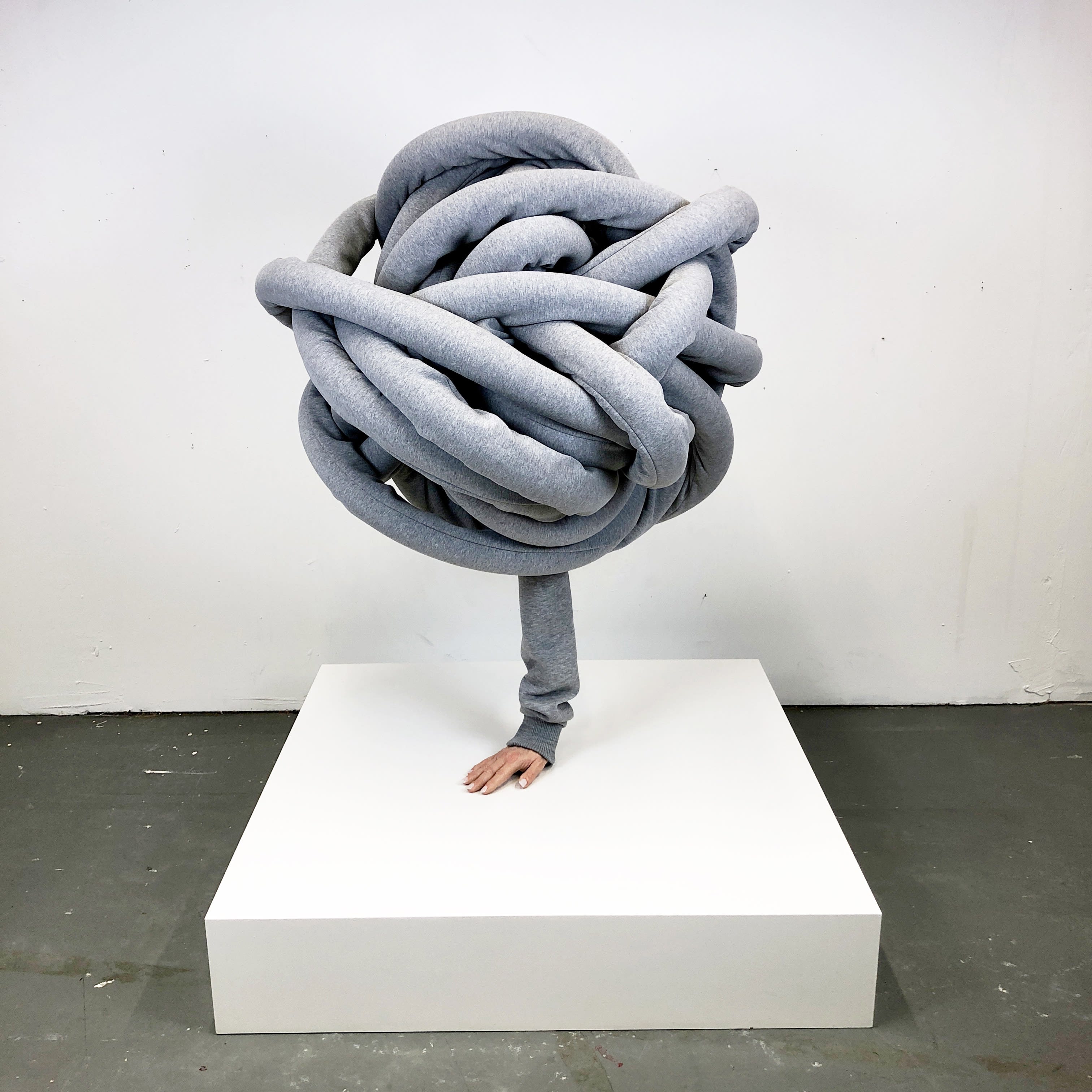 Soft Dots
In Corona times he started experimenting with textile abstractions, initially also from his recurring focus on Zen meditation. Peters uses scraps of residual fabric that he folds, stretches, pushes and pulls out until a graphic dot is created.
Soft Dots are the results of this study of colors, textures and shapes. "I work from intuition, coincidence and chaos and at the same time I try to create a perfect round dot," he says. Up close, the viewer witnesses a play of light and shadow, depth, detail and movement. Each work thus acquires its own character. The dot is like a bull's eye or a dot on the horizon. But anyone who gazes at the repetitive ripple of the turbulent ocean of textiles slowly disappears in his meditative works.