HaHaHa
:
An exhibition about humour in art
Past exhibition
Since Dada, humor has gained a permanent place in art. Before that, there were already numerous artists who made absurd, funny and parodying works, of which Jeroen Bosch, Arcimboldo, and Marcel Duchamp are good examples. Contemporary artists Bart Eysink Smeets, Eka Acosta and the fairly recent graduates Leonie Schneider and Jessi Strixner, subtly balance between a smile and a tear. Their work can be seen in the exhibition HaHaHa, about humor in art.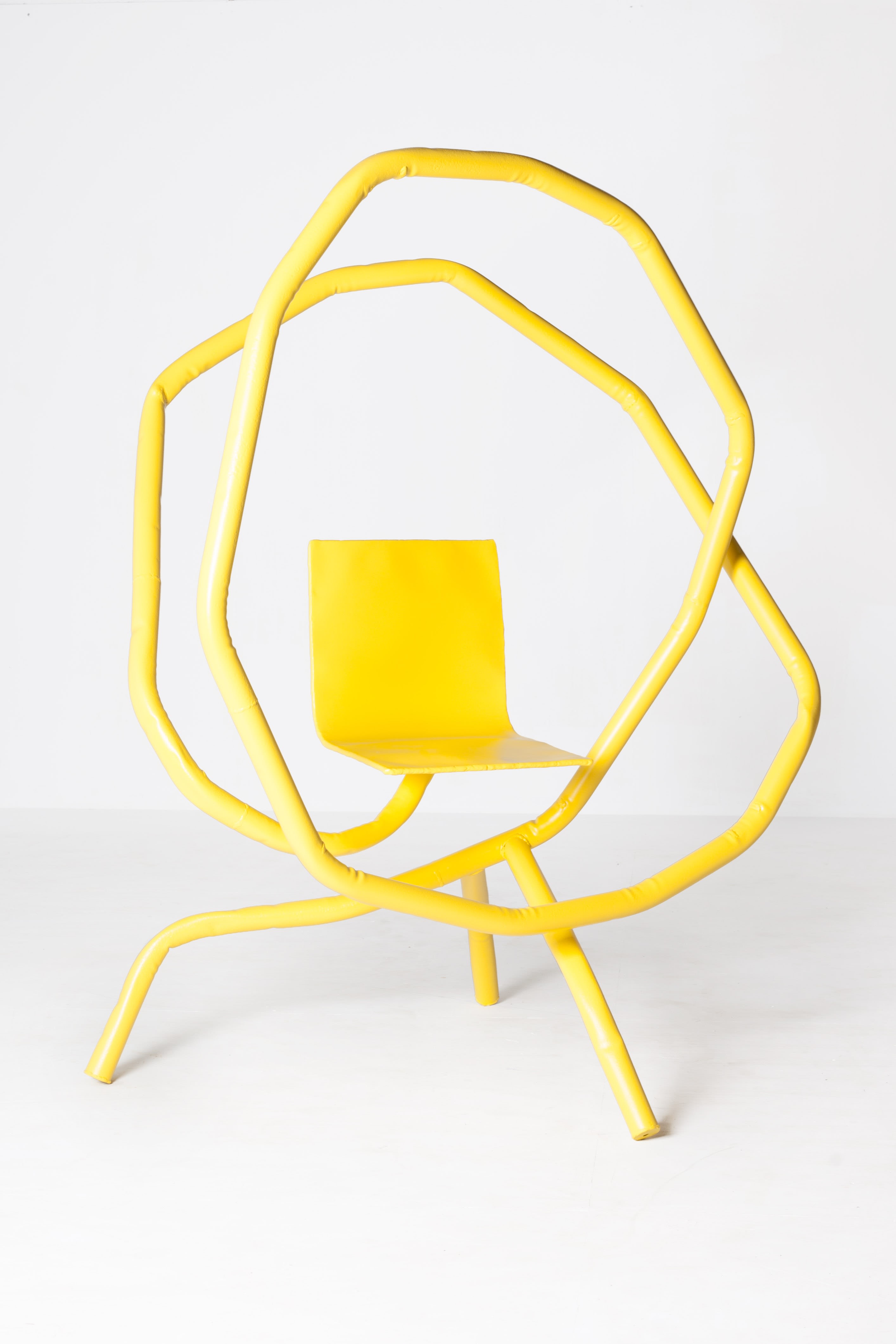 Designer, artist, photographer and sculptor Bart Eysink Smeets (1988) illuminates products such as a toaster, turd or pile of boulders in a new way. He places products on a pedestal that are so common that we do not see them or treat them carelessly. In doing so, the artist looks for a form to show the beauty of the ordinary; in his works he incorporates a mix of humor and emotion that evoke exactly those emotions in the viewer. "They are recognizable designs that invite a smile and a tear," he says.
What Eysink Smeets does is play childishly with large people's things, he says. The Yellow Rocking Chair, made of steel, with a "childish" design language in his own words, is close to his own emotions, he says. "I use it to address my inner child and you can simultaneously disarm the large human world with it."
Since he started sculpting a few years ago, he has also shown his love for the material stone. He was the first to manufacture a fat turd from Belgian bluestone, an unusual material for poo. With this he gives something that we often associate with dirty, something funny as well as a new beauty.
He also brought a one and a half meter high stone that ended up in the Ice Age on the Swedish island of Oland, in Drenthe, back home in the car with trailer. His brother, who is a filmmaker, has made a film about it, which will be broadcast at VPRO in October. He mainly thought it was a good joke, for the artist it is more about what it triggers in people, such as emotion. But other parallels can also be drawn: it is just as much about the refugee problem, emigration, our relationship with nature, and even looted art.
In the series Editions Bart Eysink Smeets made 'Smokers' Trophy'. As the title suggests, it is a used gold-colored polyester ashtray in an edition of fifty.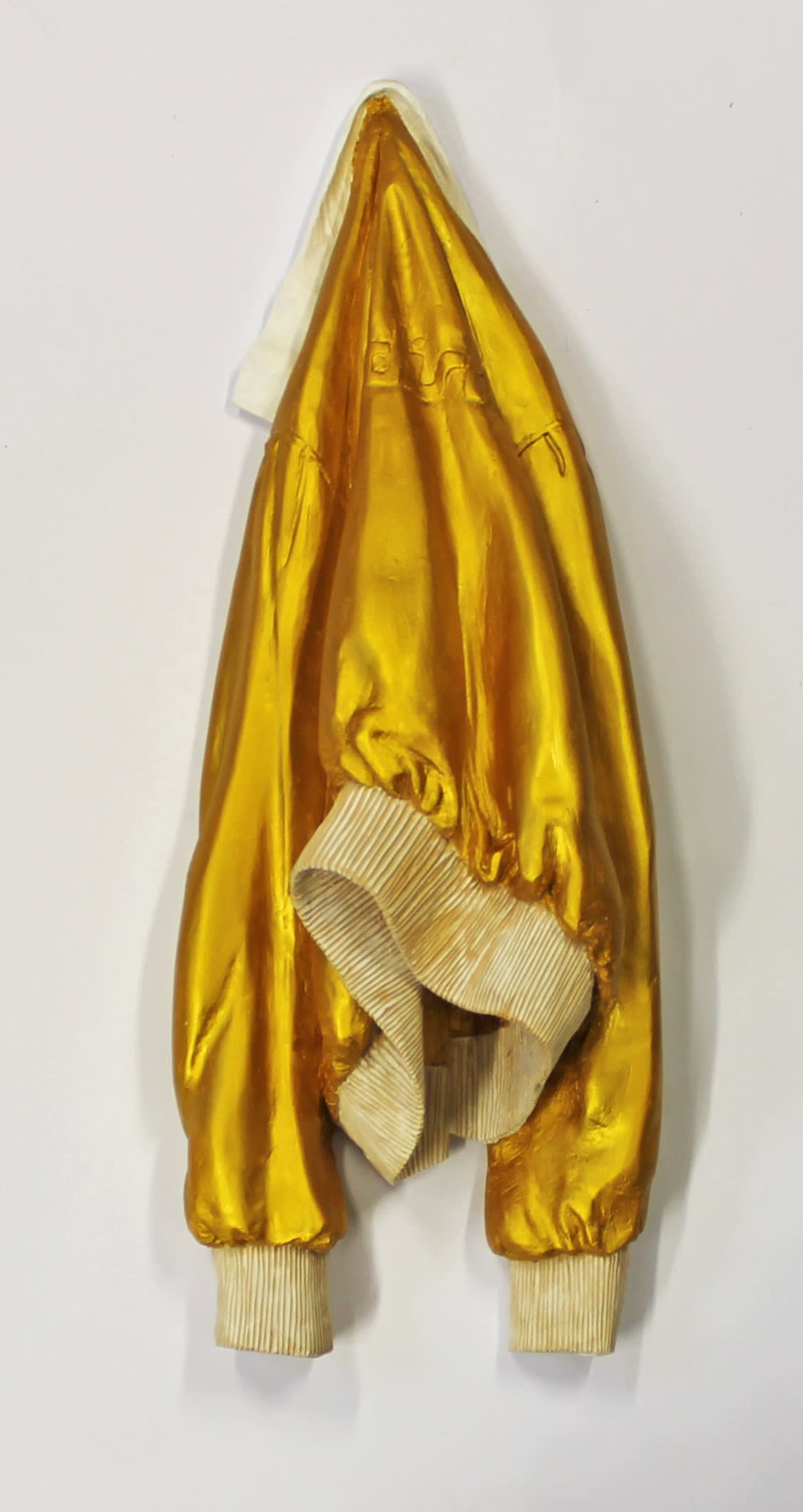 Wood carved clothes
After obtaining her master's degree, artist Jessi Strixner (1992), who lives and works in Munich, has literally cut herself loose from traditional woodcarving and is now entering the art world. She manufactures garments from a single piece of wood with a wink. She skilfully gives the hard wood a feeling of supple textile. Just like Bart Eysink Smeets, she tells a new story with normal, daily attributes. Her wooden jacket, bra or sports sock, hung on the wall, is given a new iconic value.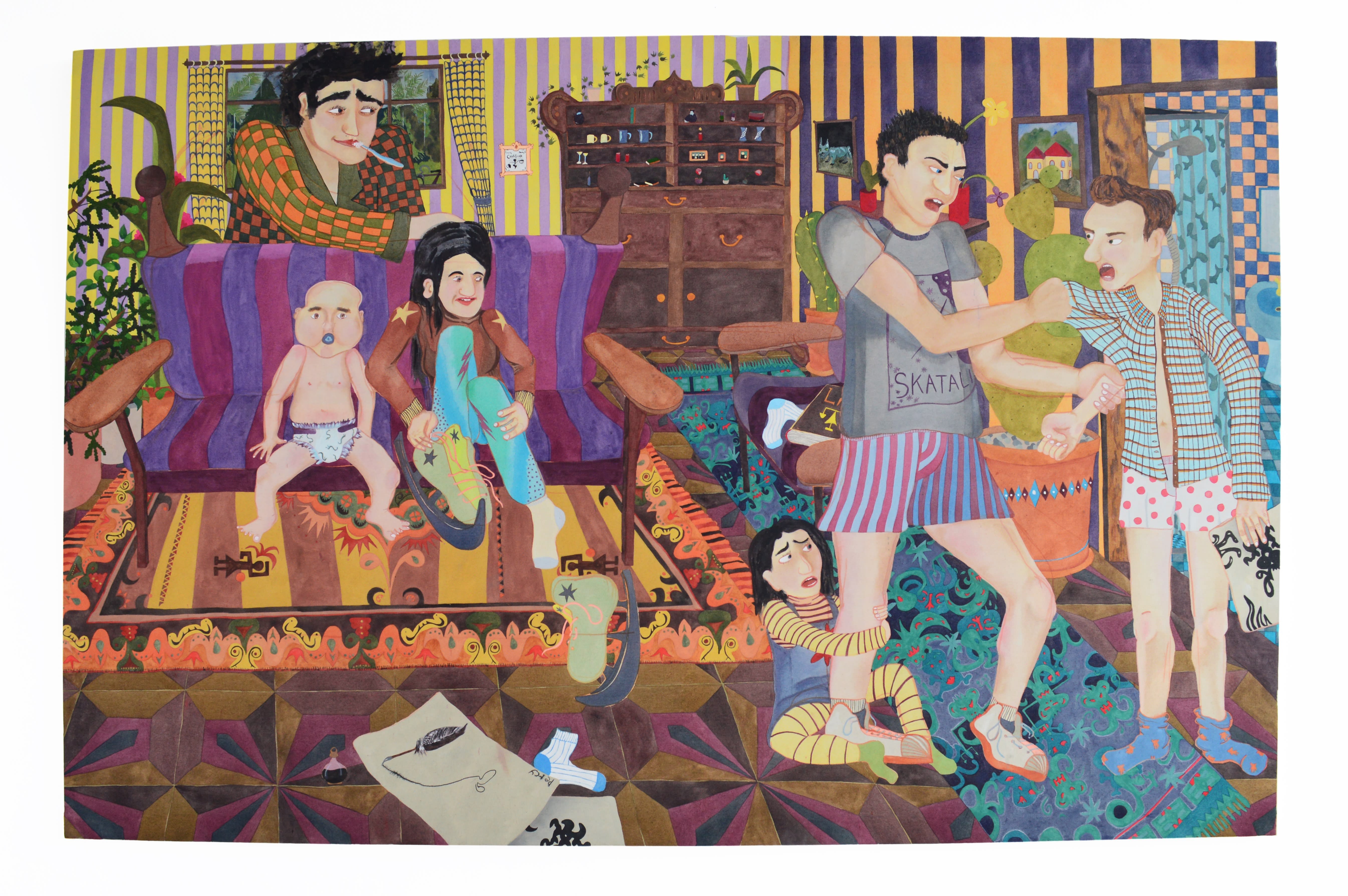 Colorful scenes from a life
Visual artist Leonie Schneider (1993) is also from Munich, but lives in The Hague. What is special is that, recently graduated from the KABK, she not only received the Stroom Encouragement Award (2018) and the Stroom Invest Award (2018), but has also been nominated for the prestigious Royal Prize for Free Painting 2020. Her full and colorful paintings tell a whole family story in one image. She brings all kinds of characters to life in carefully constructed scenes that offer a glimpse into relational situations in which, among other things, power, shamelessness, violence and fear play a role. But because of the playful and colorful imagery, they evoke both a smile and a tear.