Booth 30
The participation of Rademakers Gallery is made possible by the Mondriaan Fund; the public incentive fund for the visual arts and cultural heritage.
Enter Art Fair is a new and ambitious international art fair taking place in Copenhagen. As the first of its kind Enter Art Fair combines the well-known art fair format with a state-of-the-art digital art fair experience. Rademakers Gallery is proud to present three young female artists to Enter Art Fair: Joana Schneider, Florentijn de Boer and Robin Speijer.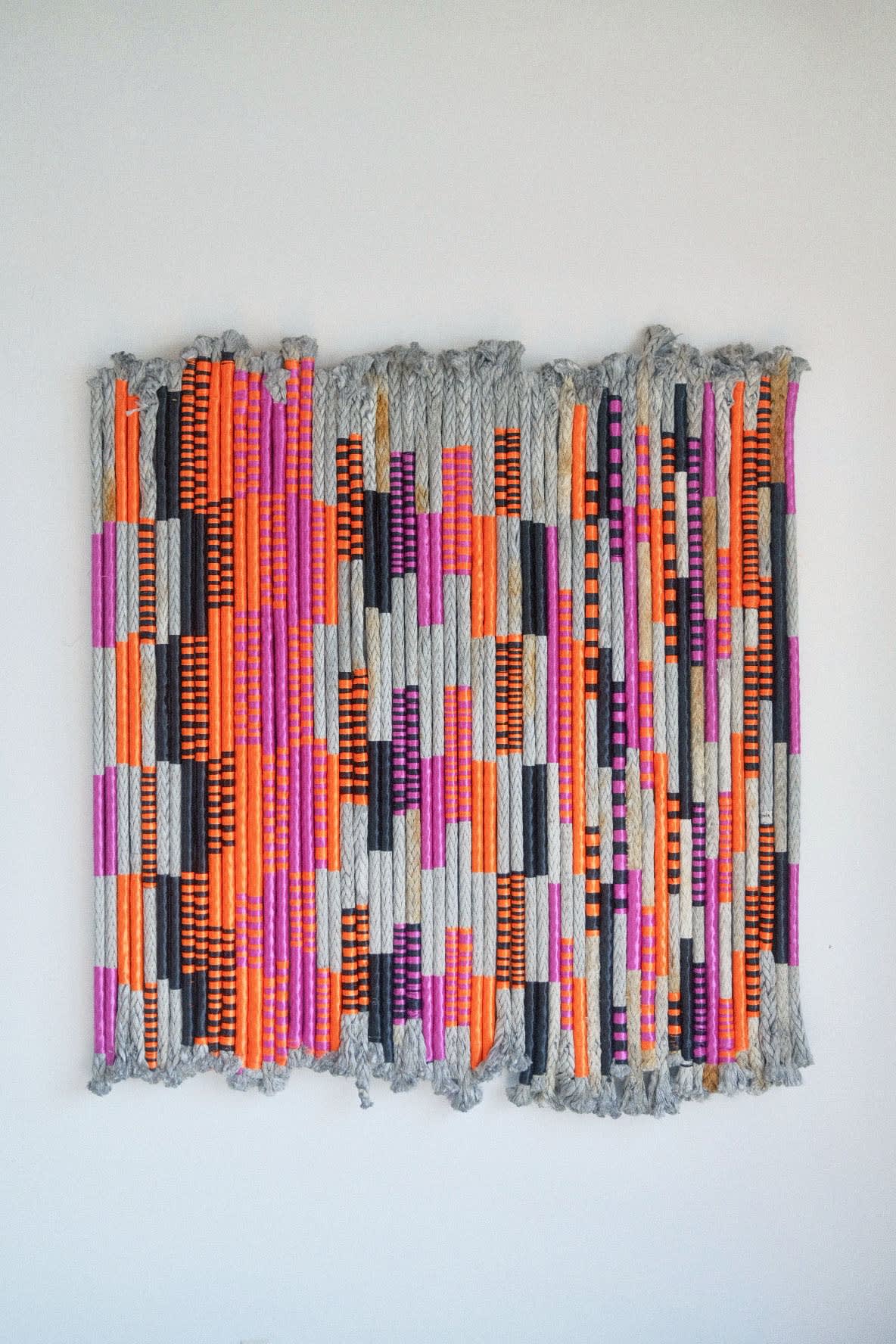 The artworks
Joana Schneider
recently made are more graphic and abstract than her earlier work. Schneider's work is not only inspired by other fields of labour and crafts involved in the production process, but also about the enormous value of labour for her own works of art. The physical work is an enormous effort, but also a form of liberation. That is why all the labour involved in sewing and weaving the ropes is done by hand. Here lies a sincere interest in the future of craft and labour. Schneider believes that the advent of artificial working methods will lead to a re-valuation of craft and work processes while certain knowledge can never be replaced by computers and machines.
Florentijn de Boer
:
In her increasingly richer and more layered paintings, she incorporates a wide range of subjects that are partly inherent to painting, such as the formal functioning of perspective space, but also more generally by telling new stories. She makes compositions from countless refined and detailed black and white drawings that show fragments of an imaginary reality. She uses these zoomed, amorphous forms from fantasy and alienating worlds, such as magic realism, science fiction films, art books, poems, graphic novels, mythology, Japanese Manga books, and the cyclic patterns in nature, which she composes in layers on top of each other. In this way new illusionary, comic-like stories arise that she translates into her own visual language.
Her works always have a provocative narrative title in which transformations of humans and animals, mythical figures and landscape-like elements play a role, such as: 'Ventriloquist' and 'In what salt rivers we want to wash this story'. But the real power of her works is that they offer freedom to associate and interpret yourself. In this way she initiates communication and reflection. She always uses her hands as a 'brush' to apply both solid and liquid strokes to the rough linen with oil pastels, which remain deliberately visible in various places. She uses the impressionistic way of painting that is inspired by Japanese Manga drawings from the 19th century. Because of the uncontrolled and random brush strokes, these were a great source of inspiration for the impressionists.
Has just graduated from the HKU and we will bring her for the first time at an Art Fair with her large scale paintings.
Robin Speijer's work focuses on a combination of color, light and textures. At first glance, the subject seems to be the many forms of fabric. The feel of the material and its ability to take on many different shapes fascinates her.
These details have been zoomed in on and enlarged, creating depth and softness.
In doing so she separates the material from the context it was contained in, allowing it to be viewed differently. The paintings, however objective the painter intended them to be, contain an emotional intimacy that arises from the artist's subjective methods for composition and framing.
The participation of Rademakers Gallery is made possible by the
Mondriaan Fund
; the public incentive fund for the visual arts and cultural heritage.